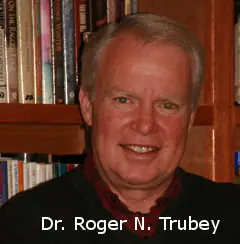 Dear Visitor,
Welcome to my website and thank you for your visit.  I hope you will find what you are searching for.
As a Naturopathic Doctor and Clinical Nutritionist, I lived and practiced in beautiful Hot Springs, Arkansas for 36 years. It has been a privilege to have developed a wonderful relationship with so many enthusiastic patients over the years And now what a great joy it is for me to be here with new challenges as I look forward to seeing and being a part of improving the health of many new patients here in the Dallas-Fort Worth area. I am happy and delighted to be a part of the Texas culture and independent lifestyle. I have a comfortable home office and am located just off of Debbie Lane/1187 about half way between 35W and Mansfield.
I would be honored if you would trust me with your health and nutrition care.  And if you would allow me to do that, please drop me a note of your health concerns or give me a call.
May you have the best of health, Dr. Roger Trubey
Natural Medicine, Clinical Nutrition, Traditional Naturopathy
You are invited to the Nutrition and Natural Healing Center where I employ traditional Naturopathic healing techniques including a broad range of holistic-minded health care, preventive care, nutrition, diet therapy, Natural Medicine, Metatron assessment and therapy, nutritional therapy, vitamin therapy, herbal and homeopathic medicine.
My Philosophy of Healing
My philosophy of healing and Holistic Health focuses on all facets of human functioning, by which we take responsibility for maintaining our well-being.
I believe in the God-given power of our bodies to heal. I want to help provide you the road map so that your body has all the tools and necessary components to heal itself from the inside out. Your body does all the healing. I don't treat any disease, your body does that. I will help you support your body in what it is already trying to do.
Restoring the body's innate ability to create wellness
When toxic metals, hidden infections, food allergies, or scars are wrecking your health… you can't just eat well, or take a multi-vitamin and expect that to do the trick! Even the BEST nutrition in the world won't work if there are hidden stressors wreaking havoc on your body.
Locations Serviced
The Nutrition and Natural Healing Center is located in my comfortable home office in Burleson, TX. I am located just off of Debbie Lane/1187 about half way between 35W and Mansfield, but I do see patients from all over the DFW area and Arkansas.
Conditions Routinely Helped
Some of the conditions I see routinely and help individuals successfully improve include: Acid reflux, ADD, ADHD, fatigue, allergies, anxiety, arthritis, asthma, blood pressure, candida yeast, chronic pain, constipation, depression, diabetes, diarrhea, digestive problems, fibromyalgia, food sensitivities, headaches, heartburn, cholesterol, hot flashes, IBS/IBD, infertility, menopause, migraines, and mood disorders, rheumatoid arthritis, lupus, irritable bowel syndrome, Crohn's Disease, Hashimoto's disease, parasite infections, herpes, chronic cough, upper respiratory infections, ear infections, weight loss, Epstein-Barr, mono, leaky gut syndrome, panic attacks, thyroid dysfunction, mold/mildew sensitivities, rash, dermatitis, eczema, food allergies, high blood pressure, dermatitis, mercury toxicity, mercury poisoning, detox, chronic fatigue, tired, low energy, psoriatic arthritis, acne and others.
Call Dr. Trubey today, so he can help you achieve your health goals – (501)-538-4944.
Click here to find out what you can expect when I see you for the first time..
Hello patients and visitors, Welcome to Wellevate where my supplement store can be your supplement store.  Please enjoy a 10% discount on your purchases and free shipping on any order of $49 or more.  You will find hundreds of available supplements from dozens of first class companies used by thousands of alternative and functional medicine doctors all over the world.  It is where I purchase my supplements and now you can too.  Hey,  click the button, register with your email (it will not be sold, rented or abused or used for anything else) and take a look around and see all the incredible supplements that are available. My recommended supplements are the first 50 you see but there is a whole lot more beyond those. Enjoy.