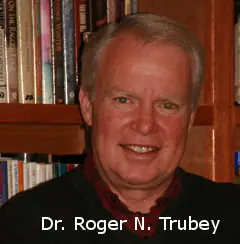 Dear Dr. Trubey
I just wanted to write to you and let you know how much I appreciated the results of the treatments you have given me for my allergies.  God has brought me into the land of the living again.  Before your treatments with AAT about the only thing I could safely eat was brown rice.  As a vegan vegetarian I was having a hard time maintaining my energy.  Even the supplements I took provoked reactions in me and provided no relief.  It's no wonder when I found out how many I had with AAT, even vitamins B and C and ascorbic acid.
I was at my lowest point when I met you and found out that indeed there was hope.  God opened up a whole new door for me.  I can't praise Him enough.  AAT has turned my life around.
Barbara – September 2009
---
For years I had suffered from itchy skin and spent many restless nights scratching my back, abdomen, legs, etc.  It was about a year ago that this problem became so severe that my back was raw.  After an AAT evaluation and several treatments I discovered most of my problem was from sensitivities to grains such as corn and wheat and possibly to a substance found in many foods – salicylates.   I can truly say that after only a few AAT treatments I have seen a remarkable change in my skin.  It no longer itches and amazing, no scratch marks on my back.  I am sleeping so much better now thanks to AAT.
Bryan – September 2009
---
I have been having digestive problems (bloating and gas) for several years.  I went on a gluten-free diet and did well, but avoiding foods is pretty hard if you have and active lifestyle.  Also there were many foods that I missed eating.  After going through the procedures of AAT I can now eat whatever I want without fear of a reaction.  It has made my life so much simpler, less stressful and better tasting.
SB – August 2009
---
I have had several health issues but a very big one among them was food allergies.  One week before I was to see an allergist my husband heard about AAT.  We researched it and were a little skeptical.  When I came for the first session I was very skeptical.  But I had to do something; I was down to about 10 foods that I felt comfortable eating and the weight I was losing I could not afford to lose.  It was a little more convincing when the sensitivities I was already aware of showed up during the AAT evaluation.  After treating these sensitivities I could eat with less anxiety and stomach problems.  One of the strangest sensitivities (to me) was greens of any kind.  I can eat greens and many other foods now with the stomach issues I had before.  I have gained some much needed weight and can finally absorb foods.  Thank you, God and AAT.
LB – August 2009
---
I have suffered from allergies most of my life.  I thought all I could do is just tolerate the allergies by either removing the allergens or suffering the consequences.  I developed an apparent allergy about two years ago that affected both eyes.  My eye lids would swell and turn red.  Besides being a miserable condition, I was embarrassed to be seen.  I consulted doctors including two dermatologists, who diagnosed it as contact dermatitis.  I had patch tests done to try to determine what I was allergic to.  They found several allergies, but none of them was causing the problem with my eyes.  Then I learned about AAT.  Dr. Trubey tested and treated for several things that could cause contact dermatitis.  These treatments relieved some of my other allergies, but did not affect my eyes.  Then on September 1, 2009, he treated me for a stress response I had to eggs and glutamates.  Since that date I have had no more problems with my eyelids swelling and turning red.  I have continued to be tested and treated for other sensitive foods, which has helped me, especially with digestive problems.
I am very grateful to Dr. Trubey and AAT for the help they have given me.  They are an answer to my prayers.
PH – March, 2010
---
For a number of years I have traveled to Colorado to spend a few days skiing and relaxing.  While the time spent there is most enjoyable, it always produced a nagging bout of nasal congestion.  After several days it would awaken me at night with an inability to breathe through my nose.  Blowing my nose would produce a content that was not fit to describe in anything but a medical journal.   Since I never have sinusitis of any kind the rest of the year, I thought I might be having some kind of reaction to either the dry cold or altitude.  After one treatment for altitude with AAT, I had a profound improvement in this condition.  Since that treatment I have visited Colorado several times, always going above 8,000 foot elevation and I continue to remain 90% improved and breathe easily at night while sleeping.  This is really awesome.
RT –
---
Dr.Trubey I wanted to tell you, with pollen everywhere this year, I have not been sick.   Before the AAT treatments, I would always get sick.  I have noticed so many people around me coughing & sneezing and that is what I would have been doing and then I would always end up on antibiotics.  I thank you very much.
G.R.–