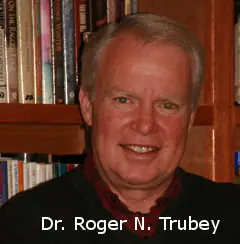 Heart Rate Variability, HRV, is the variation in the time interval between one heartbeat and the next.  People will say their heart rate is 75 or 64 or 82 beats per minute.  But in fact there is, or at least should be some variation in the rhythm of the beating heart, so that when you inhale, your heart rate actually speeds up and when you exhale it slows down.  You are likely not able to sense or feel the difference but it does take place.
While one would think that a steady, unvarying heart rhythm would be something we would want to have, it is just not the case.  The heart continually oscillates between acceleration and deceleration in a tug-of-war within the autonomic nervous system, controlled by two "pacemakers" in the heart that creates the heart's rhythms. So there should be no fixed heart rate.  In fact, it has been repeatedly shown that the more rigid and unchanging the heart rate, the more stress of some type is in our system and one is at greater risk for health problems of any type.
What Causes the Variableness of our Heart Rate?
Our thoughts, emotions, and experiences of the external world are tightly connected to the functioning of our nervous system, heart rhythm and breathing.  When in a stressful moment our heart speeds up.  When our body is under the stress of an infection it will again be at a faster rate but not necessarily have a better variability and more often than not it will have less variability.   Think of what your heart was doing on your first date, prom night, at your wedding or when going into a meeting with the IRS.  It was naturally responding to a stress.  A healthy heart responds to the demands of the organism; it doesn't follow preordained intervals and the more flexible we are, the more capable we are of dealing with life's inevitable stressors and the better our HRV.  This flexibility, or lack of it, is tightly correlated to our autonomic nervous system which is in turn reflected in our heart rhythm and then visualized with the test.
The Autonomic Nervous System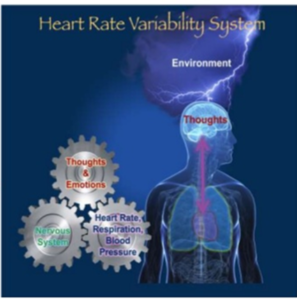 The autonomic nervous system is the "automatic" nervous system: that part of the nervous system that is not under conscious control. It controls the organs and systems of the body that are rhythmic, regular and automatic such as breathing, digestion, infection fighting and heart rate. There are two branches of the autonomic nervous system: sympathetic and parasympathetic. These two branches work to keep the organs they control in perfect balance.
The Sympathetic Nervous System is that part of the ANS that produces our "fight or flight" response.  In a word it is responsible for our survival.  In so doing it shuts down digestion and funnels blood and energy to our large muscles to prepare us for attack or escape – i.e. survival and self-preservation.    Chronic over-stimulation of our sympathetic nervous system will eventually lead to multiple health problems and low variability of the heart rate.
The Parasympathetic Nervous System is often referred to as the "rest and digest" part of the ANS.  This part of the ANS decreases the heart rate, improves digestive function and generally allows for repair of our tissues and organs.  When the sympathetic system dominates, repair is difficult and our organs and systems go into disrepair at a much faster rate.
Thus we can see that a greater variability (or good HRV) correlates with better health, a healthy autonomic nervous system, an inherent self-regulatory capacity, along with adaptability and resilience.   And in particular we have a healthy balance between the sympathetic and parasympathetic systems.  A decreased HRV is an early, accurate indicator that the autonomic nervous system is out of balance. The lower the HRV (the lower the variability), the greater the imbalance in autonomic control and the greater the likelihood of poor health, both now and in the future.  Therein lays the beauty of HRV:  It offers a glimpse into the autonomic system, an aspect of our physiology normally shrouded in mystery.
And yes, it is possible to have too much variability or an excessively high HRV.  That is really instability and we would call that arrhythmia, which is chaotic and very detrimental to normal physiological functioning and energy utilization.
Scientifically Based
HRV was first used clinically in 1965 when researchers concluded that fetal distress was accompanied by changes in beat to beat variation in the fetal heart, well before they could see detectable changes in the heart rate.  The scientific data base is rather voluminous at this point with nearly 12,000 scientific articles published in the English language alone.  Even the National Institutes of Health (NIH) has funded many studies on HRV in evaluating it as a biomarker for evaluating health and one's disease potential.
Even the American Heart Association in a study they published in 2000 found that decreased heart rate variability was associated with a higher risk of death in patients with heart disease and in the elderly and an increased risk of coronary heart disease in the general population.  But other studies have shown that the risk is not limited to just the heart.  There is increased risk for a number of other disease states just as our ANS affects every system and organ of the body. But the opposite is also true among the elderly; a high HRV is strongly associated with "healthy longevity".
What Causes a Decreased HRV?
Not-so-optimal heart rate variability may due to multiple factors.  It can be from general factors like age, gender or weight, but it can also be from stress at home or work environments or disease states.  Even for some, environmental factors, like mold exposure, the weather, Wi-Fi, or electromagnetic storms can play an unsuspecting role.  And one does not have to be stuck with a lousy HRV; it can be changed.
Besides changing or adapting better to those environmental and stress factors, improvement can also come from treating those disease conditions along with using biofeedback, meditation, learning proper breathing and just learning to relax.
More than just HRV
It is important to fully understand that while HRV is a wonderfully valuable tool in and of itself, the VedaPulse is more than just HRV.  The developer, Dr. Oleg V. Sorokin along with his team, took the HRV one step further and married the device to the ancient science of Pulse Analysis.  Pulse analysis has been a part of Traditional Chinese Medicine (TCM) and the Ayurvedic system of medicine, from India, for hundreds of years.
Pulse Analysis is performed by a well-trained TCM doctor or doctor of Ayurvedic Medicine.   His or her fingers are placed on the wrist(s) of the patient where they feel for the subtle signals from the patient's pulse.  From pulse analysis, an experienced doctor can determine not only whether the patient is well or ill, but also determine the patient's relative health situation from the perfectly-good-health to critically-ill-health spectrum, as well as the part(s) of the body and the bodily organ(s) that may be experiencing abnormalities. This is the reason that the first thing that doctors of these traditions do in examining a patient is to perform a pulse analysis.  It is likely that the first analysis developed by humans was Pulse Analysis.
In the Eastern approach to health assessment, unlike Western Medicine, there is no diagnosis made.  The individual's constitutional type is assessed and then the underlying syndrome, connected to the distress in specific systems or organs is determined.  The VedaPulse assessment is able to define the constitutional type and from that it further determines the organs that are weak and need of support as well as organs that are mildly to highly stressed.  From that determination, specific recommendations for herbs and essential oils are made, along with specific foods to use and foods to avoid.
To make this possible, Dr. Sorokin and his team found a way to described complex concepts of pulse analysis in mathematical language.  In so doing, the VedaPulse can estimate the energy level of the 12 systems below. Red color will indicate tension (excess stress in the organ), those organs in yellow will indicate debilitation of energy (syndrome of weakness); orange colored organs reveal light tension.   Light green in the organs suggest slight debilitation and green color indicates a normal functioning organ.  The 12 organs/systems evaluated by the VedaPulse include:
With few exceptions the VedaPulse is performed on every new patient that I see and provides some extremely valuable insights on where the stresses are in the system and where we find weakness as well.
The 12 organs Evaluated by

The VedaPulse:

Lungs
Colon
Stomach
Spleen
Heart
Small intestine
Urinary bladder
Kidney
Pericardium
Triple heater
Gall bladder
Liver
In this example #3, the stomach is highly stressed while #4, the spleen and #10, the Triple Heater (endocrine organs) are very weak
We also will see a measure of the level of health, the level of our stress and our ability to adapt to the stressors in our life.  But we also like to know how fast we are aging in dealing with our life stresses.  The VedaPulse provides this information to us as well.